Welcome to a natural approach to Women's Wellbeing.....
Fertility Awareness, Fertility Massage, Aromatherapy, Castor Oil Packs, Reproductive Reflexology and the Fertile Body Method Hypnosis - these are all specialised treatments which I offer to my clients who are looking for a holistic approach to fertility issues.
​On the first Saturday of each month I run Bristol Fertility Support Group for individuals and couples who would like to meet up with others who are going through fertility issues. ​
Pregnancy - Pre and post natal Care

I offer Hypnobirthing/antenatal education, help with breech presentation using hypnosis, reflexology and Spinning Babies techniques, massage, pre and postnatal nutrition and exercise advice.
Hypnosis for helping with hot flushes, abdominal-sacral massage and reflexology to help you relax.
Emma works from the Natural Pregnancy Partnership in Long Ashton, Bristol.
​She specialises in a natural holistic approach, nutrition and exercise.
​Emma is interested in supporting women through various stages of their lives which include preconception, fertility, pregnancy and menopause.
​Massage, exercise and hypnotherapy can all help with general wellbeing by reducing the symptoms of stress and promoting a healthy lifestyle.​
---
I work from Yanley Court, Long Ashton - ten minutes from central Bristol.
Please contact me via email as my telephone is more often turned off or diverted to messaging.
I am always happy to phone you back if you would like to talk to me - remember to leave your number!
emma@emmacharltonhypnotherapy.co.uk
or connect with me on
Facebook
​​.​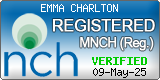 I am a Holistic Therapist - I do not diagnose, prescribe medicines or claim to cure.